[Solved]

What Do We Get With Dynamic Display Ads?
07/01/2022 5:28 pm
Topic starter
Trying to get details as to what exact deliverable is included with the DYNAMIC AUTOMOTIVE ADS and cannot get any info except that is costs $249 setup + $1,000/month but nothing else, no minimum number of impressions or anything.
In order for me to sell this to my clients I need more details.
Please help!
Here is a screenshot of the product: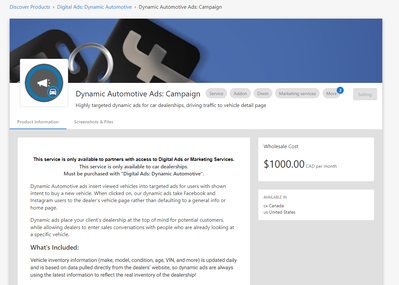 Hi Roberto!
That's a great question. My name is Micheline, and I am the Product Marketing Manager for our fulfilled Marketing Services products. 
Dynamic ads actually display a dealer's actual vehicles to shoppers, and clicks go directly to the VDP on the dealer's website. The return on investment for Dynamic Ads can be much higher than static ads, due to their targeted nature. You are displaying an actual vehicle, not just a generic image, to an interested shopper.
With nearly 6 million vehicles, you won't have to struggle with multiple data vendors. We are able to quickly and easily deliver your dealer's vehicles to Facebook as a Product Catalog, then share the catalog with you. Catalogs are updated every day, so the inventory is always fresh.
We are also able to build a larger Facebook pixel audience than any other provider because our entire platform funnels interested shoppers into our audience, and you can target that audience with your dealer's Facebook ad campaigns.
A few things to note that are the two main pieces of information/actions we need from you (the partne) or your client:
1. Facebook Page Access: We will need access to the advertiser's Facebook Page to run the Facebook Campaign. We have sent an access request from the "Digital Marketing Services" Business Manager. Please work with the advertiser to accept the request.
2. Auto Dealer Dynamic Ad Pixel: This code needs to be placed directly on the dealer's site to allow the code to pick up specific actions as well at to pick up vehicles being added and taken off the website.
I hope this is helpful information for you, but if you have any follow up questions, please don't hesitate to reach out!